Nicholas Mosse is everything we love about Irish pottery. Nick throws a huge passion into his pottery and it shines through in all the kitchenware we stock in our store.
Whether is a warm cup of tea on a cold day, or sharing a family meal on a special occasion we adore the homely feel of every single handmade item Nick makes.
Nick applies patterns to the mugs using a traditional 18th Century technique in his pottery studio in Bennentsbridge in County Kilkenny in Ireland. His Old Mill is steeped in family history and was restored from an old hydro electric mill to power the fire needed to cure the pottery.
Nick began his lifelong obsession with pottery 55 years ago, he learnt his craft with the potters in Harrow, England and then married an American artist , Susan before going on to start the pottery business in 1976.
Susan is the creative force behind the original and creative designs, often with a heavy hat tip to traditional styles. She takes her inspiration from the countryside all around them and Nick and Susan only release one new design every year.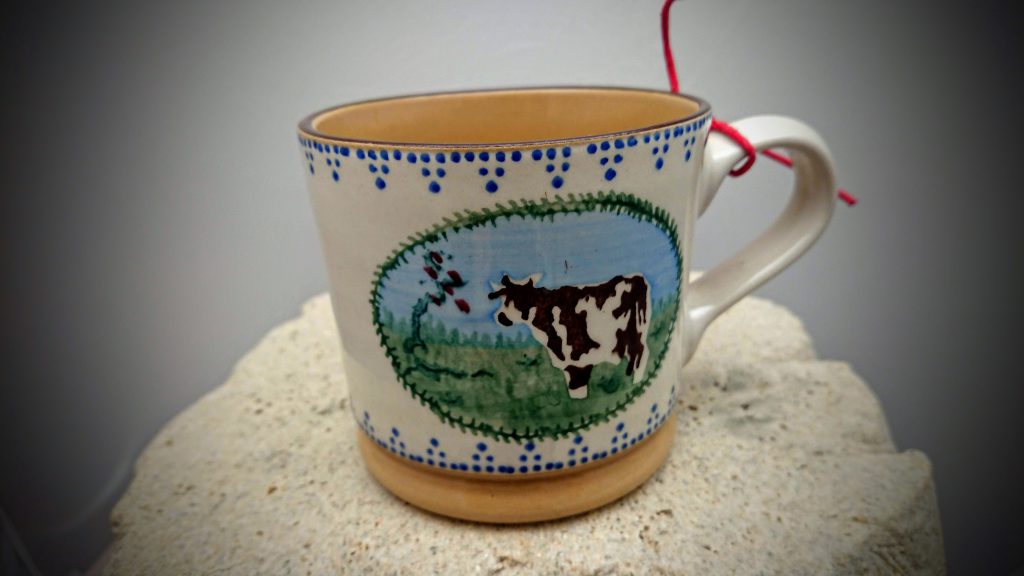 Every piece of hand made pottery from their mill undergoes a 20 step process. Starting with the locally sourced and custom mixed clay they then throw lumps onto the potters wheel and begin forming each mug or item by hand.
The handles are applied using 'slip' which is a natural clay glue that binds the handles during the firing process in the kilns.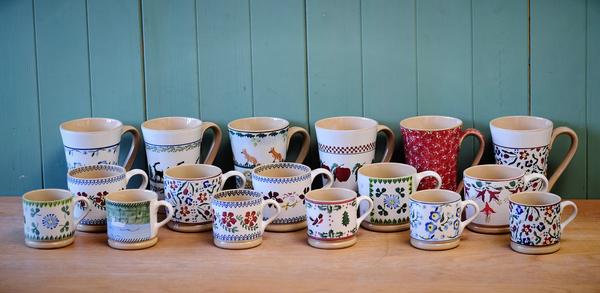 The Bisque Kilns do a first firing without the colorful patterns on before being hand painted at the mill with different underglaze colors and then refired in the kiln with a clear hard glaze applied over the top.
When we hold Nick and Susans kitchenware in our hands, often with a steaming cup of tea when we are in the Celtic Croft shop we get a close connection to a beautiful part of the country of Ireland, and a sense of connection to our ancestry and past. The traditional and handmade high quality element of Nicholas Mosse pottery and the connections it makes for us are the reasons we take huge delight in shipping his goods to the USA and helping to entice American customers with their own little bit of authentic Irish pottery into their daily life at home.
These mugs and kitchenware are for drinking from, not leaving for show on your sideboard !